Home Made Static Grass Applicator
There are a number of commercially available static grass applicators but it is possible to make your own. Many of the parts can be cobbled up from things you may have around the workshop and the few simple electronic bits can be had from the usual supplier.
I followed the instructions that I found on the internet and these have been updated a little since then:
http://www.shorttrackrr.org/static_grass_applicator.pdf
The one part that you might have trouble obtaining locally is the negative ion generator module. This should not be confused with the large number of "Negative Ion Generators" which are sold as air purifiers.
If you can't get a negative ion generator module at your local electronics shop Oatley Electronics supply these and they sell on line
http://www.oatleyelectronics.com/
Search for IONB2 which is an update on the information given on the shorttrackrr website.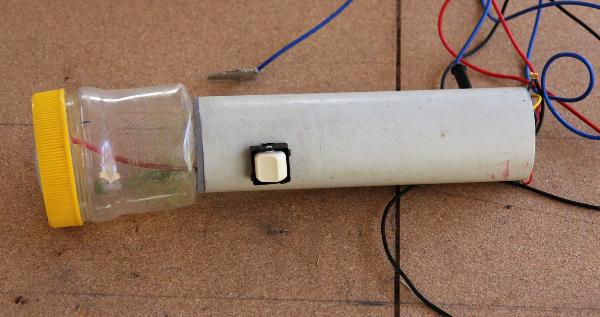 It's ugly but it works!The red and black leads go to the power supply, the blue lead clips onto the pin that you stick into the baseboard. The unit is a bit clunky to use; more flexible cable would be better. Even better might be to do away with the plastic jar and connect the red wire that you can see inside it directly to a sieve or strainer (with metal mesh, of course!). This red wire should be as flexible as possible.
To use the device you first need to coat the area you want to treat with a wet sticky material. PVA glue, water based paint or acylic matte medium would all be good. The pin (blue lead) is stuck into the base material and the applicator shaken above the surface; it should be as close as possible without touching the wet glue.